Welcome to the first in my Agony Bookworm series! I've had a great response from social media and I can't wait to get around to answering all of your questions! This one was actually one of the first ones I received and it happens to be a great age group to recommend for.
Sharon Leavy from www.behindgreeneyes.com asked: Do you have any suggestions for a 10 year old boy who has read all the Diary of a Wimpy Kid and David Walliams books? He's a good reader so I don't mind if it's a little older as long as it's still suitable for his age.
At 10, kids tend to go into two camps; they either can't get enough of books, or they've been lost to the dark side of gaming.. Just kidding, but the amount of Minecraft books we sell to this demographic is crazy!
For this age you can always depend on the big classics, Harry Potter and especially Rick Riordan's Percy Jackson series. If he has already seen the films, don't worry; as is the case with most movie adaptions, the books are so much better. Riordan's writing style is accessible but exciting so you don't need to wory about it being too old or too young for him. It mixes adventure and laughs with a great diversity of characters. Plus, they will learn so much from this series! Studying Classics in college without having done it for the Junior or Leaving cert, all of my prior knowledge came from these books. Just be ready to be bombarded by classical Greek references you may need explained to you!
Another one that comes into the funny adventure genre is the How to Train your Dragon books by Cressida Cowell. Another one with a film adaption (which in fairness is a very good one!), the difference with these guys is that the films are based on the books but are not straight-out copies. The main change is that Toothless the Dragon is small enough to sit on Hiccup's shoulder and is really bold! The only way to get him to do what he's told is to tell him a bad joke and Hiccup uses that to show is village that you don't need to be mean to dragons to get them to help you. Add that to the illustrations provided by the author herself and you have a quick favorite.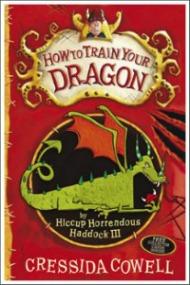 If that doesn't strike his fancy, you can stick with the Diary of a Wimpy Kid style books with the Tom Gates books by Liz Pichon. These are a natural next step for kids who've finished the Wimpy books and offers the same kind of laughs mixed with illustrations that is so popular right now. We can't keep these on the shelves!
Two special mentions have to go to Moone Boy: The Blunder Years by Chris O'Dowd and Nick Murphy which has just come out in paperback in Ireland, and The Astounding Broccoli Boy by Frank Cottrell Boyce which has only just been published. Very funny books which don't really take themselves too seriously!
As always, never be afraid to ask your bookseller for recommendations, its what we're there for! If you have any questions you want me to answer, comment below or give me a shout on Twitter at @lorrainebow_lv!